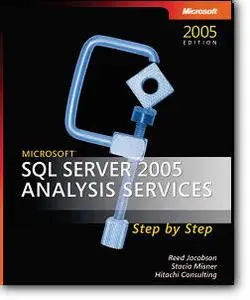 Reed Jacobson, Stacia Misner, «Microsoft SQL Server 2005 Analysis Services Step by Step»
Microsoft Press | ISBN 0735621993 | 2006 Year | PDF | 24,33 Mb | 400 Pages
Your hands-on guide to learning Microsoft SQL Server Analysis Services, Microsoft's customizable analysis solution for business data modeling and interpretation. Analysis Services is a powerful tool for business intelligence, so understanding the essentials—how to create a cube, as well as how to deploy, customize, and extend the basic calculations—is critical to harnessing the full benefits of SQL Server. This step-by-step tutorial shows you how to get started, how to build scalable analytical applications, and how to use and administer advanced features. Interactivity features (enhanced in SQL Server 2005), data translation, and security are also covered in detail. With STEP BY STEP, you work at your own pace through hands-on, learn-by-doing exercises. Whether you're a beginning programmer or new to this version of the technology, you'll understand the fundamental techniques for using Analysis Services.
Password
:
www.AvaxHome.ru
Download from Rapidshare
Бонус | Bonus
My other uploaded eBooks (1900+) - links and descriptions
Другие книги, закаченные мной (более 1900) - ссылки и библиографические данные
New!
version 6 (May 03 2006) [1,12 Mb] | Format: txt
Download eBooks list from Mytempdir
Download eBooks list from Rapidshare
If you need a book from the list but the link doesn't work
anymore, send me a message. Also write me about dead links in my other posts, please.
Если Вам необходима книга из списка, а ссылка на нее не работает, то отправьте мне сообщение. Также пожалуйста отправляйте мне сообщения о нерабочих ссылках в моих постах.