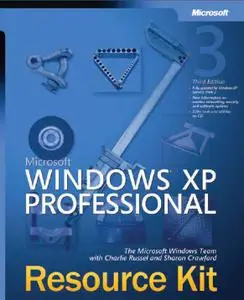 Microsoft Windows XP Professional Resource Kit, Third Edition
Microsoft | 2005 | ISBN: 0735621675 | 1568 pages | PDF | CD 2nd Ed | Total 35 Mb
The definitive resource for installing, managing, and supporting Windows XP Professional-with in-depth technical information and tools from the Microsoft Windows team. Includes new coverage of Windows XP Service Pack 2 and updated security features.
Authors:
Charlie Russel
and
Sharon Crawford
(from an Amazon customer review)
Usually when a book is release as a 2nd or 3rd edition, the publisher is just updating the content to reflect the new features or releases of the software. This book is just that and a little bit more.

This book takes apart the XP operating system from stem to stern and everything in between. Taking it from the deployment to remote users to desktop configuration. In most case that would be enough, but here's where the book is updated.

Adding over 200 pages on security, you will find that book is far more than a Resource kit, it may also be used as a study guide for the 70-270 exam.
The book is actually a repost. The CD is from the 2nd Edition and has not been posted here before. I was unable to locate the CD of the 3rd Ed so would be grateful to anyone who can supply a link, though the 2nd Ed CD should have all you need. It contains:
Microsoft Windows XP Professional Resource Kit, 2nd Ed (installation, to be read by IE5 or later. Thanks Microsoft for forcing us to use IE to read it.)
A mystery "Bonus Book" which turns out to be Microsoft Windows Server 2003, Automating and Customizing Installation (PDF) - not much use if you aren't into servers.
A very good set of tools, probably the best part of the CD. Includes sleep.exe for inserting delays, etc.
Download (RS)
Password is Charlie's surname in lower case
Non-RS mirrors welcome.