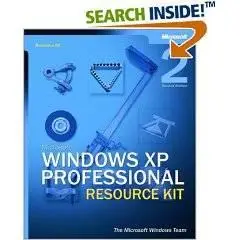 TMicrosoft Windows XP Professional Resource Kit, 2nd Edition by The Microsoft Windows Team - Microsoft Press
ISBN: 0-7356-1974-3 | Nov 2003 Year | 2nd Edition | PDF | 12.32 MB | 1744 Pages
Install, configure, and support the Windows XP Professional operating system with expertise from the Microsoft Windows team. This official Resource Kit packs more than 1600 pages of in-depth technical information, including two new chapters from the Microsoft Windows Security Resource Kit; a bonus eBook, Automating and Customizing Installations; and 120+ timesaving tools and utilities. It's everything you need to maximize the performance and reliability of your business desktops—and help reduce your ownership and support costs.
Detailed info:
Here: or Here:
•Plan, test, and roll out your deployment
•Centrally manage users and network resources with Group Policy and IntelliMirror® technologies
•Exploit enhancements in disk, file system, and device management capabilities
•Manage authentication, authorization, access control, and EFS
•Connect clients to Windows-based networks
•Configure TCP/IP, IP addressing, and name resolution services
•Implement Remote Desktop, remote access, and mobile user support features
•Implement security features for networked and mobile computing
•Learn troubleshooting strategies to diagnose and resolve problems faster