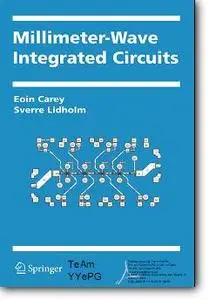 Eoin Carey, Sverre Lidholm, «Millimeter-Wave Integrated Circuits»
Springer | ISBN 0387236651 | 2004 Year | PDF | 9,57 Mb | 272 Pages
Millimeter-Wave Integrated Circuits delivers a detailed overview of MMIC design, specifically focusing on designs for the millimeter-wave (mm-wave) frequency range. The scope of the book is broad, spanning detailed discussions of high-frequency materials and technologies, high-frequency devices, and the design of high-frequency circuits. The design material is supplemented as appropriate by theoretical analyses. The broad scope of the book gives the reader a good theoretical and practical understanding of mm-wave circuit design. It is best-suited for both undergraduate students who are reading or studying high frequency circuit design and postgraduate students who are specializing in the mm-wave field.