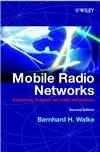 Mobile Radio Networks: Networking, Protocols and Traffic Performance, 2nd Edition
Bernhard H. Walke
ISBN: 978-0-471-49902-2
Hardcover
1176 pages
December 2001
Book Description
Offers a comprehensive and detailed description of services and protocols of the systems. Particular attention is paid to the radio-related specifics required for establishment of a mobile communication system. All systems described have been implemented during research for analysis of their performance by event driven stochastic simulation under typical traffic loads. Consequently the similarities and differences between systems are described clearly and coherently.
* Expanded and updated chapter on GPRS/EDGE and performance evaluation results
* Performance evaluation results of EDGE and UMTS
* Completely new material in chapter 5; 3rd Generation Networks
* Revised and expanded chapter on Wireless Local Area Networks including a performance comparison of HIPERLAN/2 and IEEE 802.11a
* New sections on Bluetooth, WAP and WML, Terrestrial Trunked Radio (ETSI/TETRA) and related systems
* Detailed analysis of GSM driven services; Universal Personal Telecommunications
Table on Contents

Preface
Preface to the Second Edition
Introduction
System Aspects
GSM System
Enhanced GSM Services
Other Public Mobile Radio Systems
Third GenerationCellular: UMTS
Trunked Mobile Radio for Group Communications
Paging Systems
Cordless Telephone Systems
DECT
Wireless Local Loop Systems
Personal Handyphone System (PHS)
Wireless Broadband Systems and Wireless ATM
Wireless Local Area Networks
Self-0rganizing WLANs with QoS Guarantee
Mobile Satellite Communications
UPT – Universal Personal Telecommunication
Next Generation Systems
Appendix A: Queuing and Loss Systems
Appendix B: Standards and Recommendations
Appendix C: International Frequency Allocations
Appendix D: The Frequencies of European Mobile Radio Systems
Appendix E: The GSM Standard
Appendix F: The UMTS Standard
Appendix G: Acronyms
Thanks for the original uploader

Download Link
Enjoy!