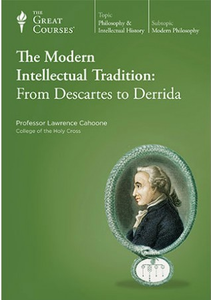 TTC Video - The Modern Intellectual Tradition: From Descartes to Derrida
WEBRip | English | AVI + PDF Guides | 640 x 480 | XviD ~797 Kbps | 29.970 fps
MP3 | 128 Kbps | 48.0 KHz | 2 channels | 18:49:50 | 7.58 GB
Genre: eLearning Video / Science, Philosophy
What is reality? It's a seemingly simple question. But penetrate beneath its surface and the simplicity drops away, a succession of subsequent questions luring you deeper—to where even more questions await.
Ask yourself whether you can actually know the answers, much less be sure that you can know them, and you've begun to grapple with the metaphysical and epistemological quandaries that have occupied, teased, and tormented modern philosophy's greatest intellects since the dawn of modern science and a century before the Enlightenment.
During this rich period of philosophy, fascinating minds like Kant, Locke, Nietzsche, and Wittgenstein (to name but a few) struggled to improve our understanding of the world against the backdrop of unprecedented scientific, technological, and historical developments. The resulting tension brought forth a vast range of questions:
Is the scientific view of the world compatible with human experience? And is the issue made more difficult by concepts like free will, moral responsibility, and religion?
What is the mind's place in a physical world? And is the mind itself different from the brain?
Is there such a thing as objective truth? What are the implications of the answer for politics, science, religion, and other aspects of human civilization?
And, ultimately, the most important question of them all:
What is the ultimate nature of reality, and what are the limitations on our knowledge of it?
To understand the answers to these questions—as well as the ideas of the modern philosophers who asked them—is to amplify not only your understanding of the Western intellectual tradition, but of history and science as well. And you will likely become an even more astute observer of contemporary trends and events by developing broader and deeper perspectives from which to observe them.
The Modern Intellectual Tradition: From Descartes to Derrida offers you an introduction to the basics of modern and contemporary Western approaches to the philosophies of both reality (metaphysics) and knowledge (epistemology), right through the end of the 20th century, when some philosophers were even questioning the value of philosophy itself. Led by author and award-winning Professor Lawrence Cahoone of the College of the Holy Cross, these 36 lectures will take you on an engaging intellectual journey that encompasses prominent figures from all the major traditions of Western philosophy.
You'll explore the ideas behind modern philosophy's most important movements, including
dualism, where much of modern philosophy began;
rationalism, which views reason as the seat of all knowledge;
empiricism, which views the senses as the source of all knowledge;
idealism, where ideas formed the basis of the nature of reality;
existentialism, the iconic 20th-century philosophy of alienation; and
postmodernism, which radically refuses all notion of objective truth.
Just as important, you'll get a clear sense of how these and other movements fit into philosophy's broader progression—for example, the division into "analytic" and "continental" philosophy—to the present day.
Explore a Radical Period in Western Philosophy
Descartes, Locke, Spinoza, Hume, Kant, Hegel, Peirce, Nietzsche, James, Wittgenstein, Heidegger, Rorty, Derrida—these and the other minds you meet in this course are easily recognized today as among the most influential in human history. But this was not always the case.
While these thinkers were indeed shaped by the currents of thought that swirled around them and their ideas frequently respected and accepted, they were also often considered intellectual radicals, their views appreciated far less in their own era than in later ones. This is, in fact, a key reason why the work of so many of them has endured and why we still read them today.
Their unique perspectives on generally accepted ideas and frequently divergent views pushed philosophy in dramatically new directions. As intellectual radicals unwilling to passively accept the contemporary status quo, they offer an enduring bond of kinship with anyone who is eager to encounter new and challenging approaches to the most fundamental questions the human mind can seek to answer.
Draw New Connections between Philosophy, Science, and History
As Professor Cahoone notes, historical and scientific changes have driven the progress of modern Western philosophy. He points out the origins of modern philosophy among great social changes you might not expect to encounter in a philosophy course, including the discovery of the Americas, the decline of feudal aristocratic institutions, the growth of a commercial middle class, the Protestant Reformation, the growth of the nation-state, and the Scientific Revolution.
Similarly, throughout The Modern Intellectual Tradition, you'll be reminded repeatedly of the links connecting history, science, and philosophy, against a backdrop of further transformations such as the growth of liberal republicanism; the rise of industrial capitalism, Communism, and Fascism; and the scientific advancements of the 20th century. You learn how natural science grew out of what was once called natural philosophy, how the seeds of the social sciences were first planted in the soil of philosophical inquiry, and why Professor Cahoone believes that it is philosophy itself that holds the key to reintegrating the divergent fields with which it has a bond.
Moreover, the course's focus on metaphysics and epistemology will strengthen your understanding of the entire process of "doing" philosophy. For it gives you a chance to ask yourself the same question so many thinkers before you have had to confront as they pondered where the starting point of philosophy should be. And you may well find, as so many of them have, that your answer depends on just which aspect of an increasingly complex world you have foremost in mind.
Meet Some of Modern Philosophy's Greatest Minds
One of The Modern Intellectual Tradition's great strengths is the skill with which Professor Cahoone conveys both an understanding of the new and sometimes complex directions offered by the great minds in the course, and a glimpse into their human sides as well.
By presenting his portraits with clarity, an easy-going style, and constant attention to where each thinker fits into philosophy's historical matrix, Professor Cahoone demonstrates exactly why his teaching skills have been honored.
You learn, for example, that
Baruch Spinoza, the Jewish philosopher whose presentation of "pantheism" helped reconcile the existence of God with Aristotle's metaphysics, was actually a lens-grinder and had at a young age been excommunicated from his synagogue as an accused atheist;
Immanuel Kant—the great philosopher whose influence on Western philosophy is on a level with Plato, Aristotle, and Hegel—spent the first half of his life as a mathematical physicist whose only reported instance of being late for his daily constitutional was the day he first read Rousseau;
Ludwig Wittgenstein, perhaps the most influential philosopher of the 20th century, was originally training to become an aeronautical engineer when he became so obsessed with questions of mathematical logic that he eventually abandoned his studies to learn under Bertrand Russell; and
Alfred North Whitehead, convinced that metaphysics must keep pace with 20th-century physics, developed an alternative formulation of Einstein's general relativity with empirical predictions that initially performed just as well as Einstein's.
With The Modern Intellectual Tradition, you'll get to experience these and many other great thinkers, both individually and together, from all the major traditions of modern Western philosophy. All you need to bring is your own curiosity about how you can know the world. From there, you'll learn how the things you know come together and discover the implications that come with whatever position you take on the world around you.
As centuries of thinkers before you have learned, it's a journey of unending wonder.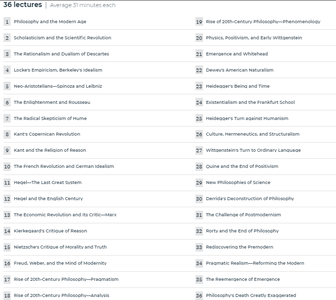 also You can find my other: TTC Video-posts
General
Complete name : 19. Rise of 20th-Century Philosophy—Phenomenology.avi
Format : AVI
Format/Info : Audio Video Interleave
File size : 215 MiB
Duration : 32 min 15 s
Overall bit rate : 934 kb/s
Writing application : VirtualDubMod 1.5.4.1 (build 2178/release)
Writing library : VirtualDubMod build 2178/release

Video
ID : 0
Format : MPEG-4 Visual
Format profile : Advanced Simple@L5
Format settings : BVOP1 / Custom Matrix
Format settings, BVOP : 1
Format settings, QPel : No
Format settings, GMC : No warppoints
Format settings, Matrix : Custom
Codec ID : XVID
Codec ID/Hint : XviD
Duration : 32 min 15 s
Bit rate : 797 kb/s
Width : 640 pixels
Height : 480 pixels
Display aspect ratio : 4:3
Frame rate : 29.970 (30000/1001) FPS
Color space : YUV
Chroma subsampling : 4:2:0
Bit depth : 8 bits
Scan type : Progressive
Compression mode : Lossy
Bits/(Pixel*Frame) : 0.087
Stream size : 184 MiB (85%)
Writing library : XviD 1.2.0.dev47 (UTC 2006-11-01)

Audio
ID : 1
Format : MPEG Audio
Format version : Version 1
Format profile : Layer 3
Format settings : Joint stereo / MS Stereo
Codec ID : 55
Codec ID/Hint : MP3
Duration : 32 min 15 s
Bit rate mode : Constant
Bit rate : 128 kb/s
Channel(s) : 2 channels
Sampling rate : 48.0 kHz
Frame rate : 41.667 FPS (1152 SPF)
Compression mode : Lossy
Stream size : 29.5 MiB (14%)
Alignment : Aligned on interleaves
Interleave, duration : 67 ms (2.00 video frames)
Interleave, preload duration : 504 ms
Writing library : LAME3.97
Encoding settings : -m j -V 4 -q 2 -lowpass 17 -b 128
Screenshots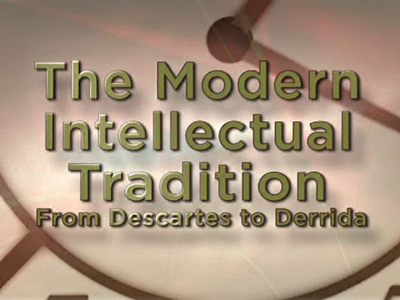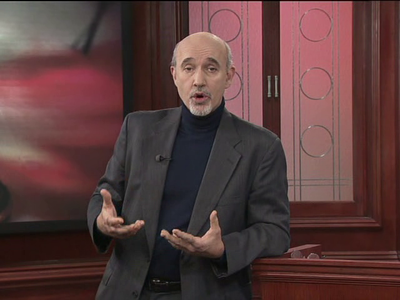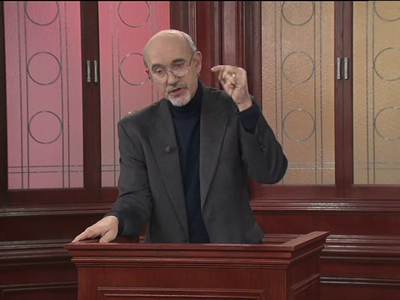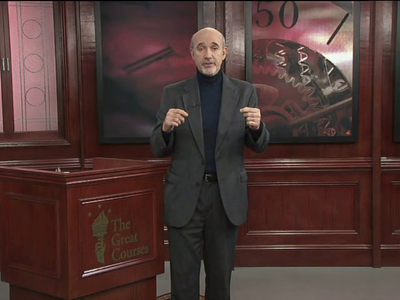 ✅ Exclusive eLearning Videos
ParRus-blog
←
add to bookmarksFeel free to contact me PM
when links are dead or want any repost