At request. Reupload. Link was deleted.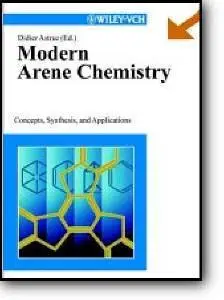 Didier Astruc (Editor), «Modern Arene Chemistry: Concepts, Synthesis, and Applications»
Wiley-VCH | ISBN 3527304894 | 2002 Year | PDF | 16,2 Mb | 632 Pages
From the very outset, arene chemistry has been one of the most varied and intensively studied areas of research, and has witnessed a rapid growth over the past few years in particular. This book, edited by the renowned chemist Didier Astruc, illustrates the incredible diversity to be found in this fascinating field. Sixteen contributions from authors who read like a "Who's Who" of arene chemistry: D. Astruc, U. H. F. Bunz, A. de Meijere, F. Diederich, K. H. Dandouml;tz, K. S. Feldman, W. D. Harman, J F. Hartwig, H. Hopf, J. K. Kochi, S. Quideau, F. Rose-Munch, L. T. Scott, V. Snieckus, J. F. Stoddart, and A. Suzuki. the book covers all the important aspects from history to the latest developments, including supramolecular chemistry, coupling reactions, cyclophanes, transition-metal arene complexes, and arene functionalization among many others. essential reading for every organic or bioorganic chemist and those working with organometallics, catalysis, and materials.