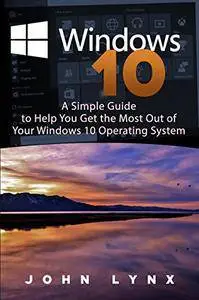 Windows 10: A Simple Guide to Help You Get the Most out of Your Windows 10 Operating System (Windows 10, OneNote, Microsoft Windows, Windows 10 Companion, Java, Excel, C++)
English | 2016 | ASIN: B01F0P5GMQ | 49 pages | AZW3 | 0.2 Mb
Upgrade Your Computer to the Next Level TODAY!
Are you hesitating to make the switch to the new Windows 10 operating system?
Would you like to drastically improve your computer's performance and help you get more done with less time by making the switch to the Windows 10 Operating System?
Would you like to know how the Windows 10 operating system can fulfill all needs?
When it comes to technology, it is vital for any company to keep up; no matter how small or big. It is pretty useless for a big company to supply redundant technology to the masses, as their popularity is sure to plummet.
On July 29, 2015, Microsoft released Windows 10, which is now being dubbed as the best operating system that the company has ever put out. Both critics and users can't stop raving about it and consider it the best operating system to work with, regardless of your professional or personal requirements.