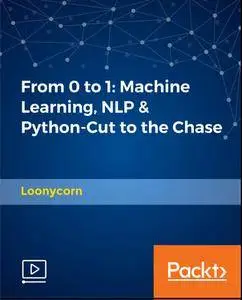 From 0 to 1 - Machine Learning, NLP & Python-Cut to the Chase
MP4 | Video: AVC 1280x720 | Audio: AAC 48KHz 2ch | Duration: 19 Hours 15M | 26.9 GB
Genre: eLearning | Language: English
This course is a down-to-earth, shy but confident take on machine learning techniques that you can put to work today. Let's parse that. The course is down-to-earth: it makes everything as simple as possible - but not simpler. The course is shy but confident: It is authoritative, drawn from decades of practical experience -but shies away from needlessly complicating stuff. You can put ML to work today: If Machine Learning is a car, this car will have you driving today. It won't tell you what the carburetor is. The course is very visual: most of the techniques are explained with the help of animations to help you understand better. This course is practical as well: There are hundreds of lines of source code with comments that can be used directly to implement natural language processing and machine learning for text summarization, text classification in Python. The course is also quirky. The examples are irreverent. Lots of little touches: repetition, zooming out so we remember the big picture, active learning with plenty of quizzes. There's also a peppy soundtrack, and art - all shown by studies to improve cognition and recall.