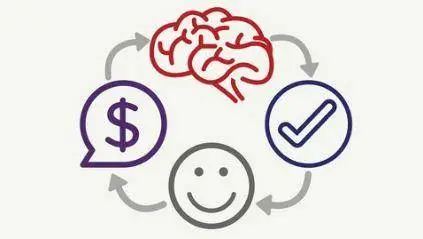 Sales Psychology - Busting Buyer Beliefs That Stop Sales
MP4 | Video: AVC 1280x720 | Audio: AAC 44KHz 2ch | Duration: 1.5 Hours | Lec: 65 | 377 MB
Genre: eLearning | Language: English
The 7 Core Beliefs Your Buyers Have that YOU Need to Understand AND Overcome BEFORE they'll Buy From You
If you sell or market products or services; and you're looking for a "straight-to-it", practical training designed to get your buyers buying, because you're marketing and selling to the very minds of your customers, then read on, as this course was created just for you! Or as just one of out students, Sara Niesen put it:
"This course was wonderfully grounding & clear; and I really appreciated the no fluff no hype approach. The information in the course is actionable and the exercises extremely helpful."
In this 2 hour, 65 lecture training, I'll be sharing with you…
The truth behind why buyers don't buy, even if your product or service is fantastic!
The role your buyers subconscious and conscious mind plays in making a buying decision!
The 7 Key Subconscious Beliefs & Questions buyers apply which you MUST overcome before they'll buy form YOU!
What you MUST include in your sales scripts and marketing messages to preempt and overcome negative buying beliefs!
Why focusing on the opportunity outcome far out ways the offer of problem fixing!
How to Create your Ideal Customer Avatar, and use it to get your sales scripts and marketing message "spot on".
With this training, you will be able to…
Review your existing sales scripts and marketing messages for missed emotional barriers that could be scuppering your sales,
Build a Highly Effective Customer Avatar, that gets to the Heart & Mind of Your Customer
Create new sales scripts and marketing messages that speak to your buyer's subconscious fears, and overcome hidden objections,
Build greater connection and rapport with your target market, by demonstrating deep empathy,
Develop strong and highly effective emotional avatars of your ideal customer, providing laser targeting.
Deal with and overcome live objections, knowing the "personal" reasons behind them.
Once understood and adopted, this will allow you to…
Feel far more confident that you know your buyer at a deeper level,
Have greater clarity around who your market is at an emotional level,
Be more creative in writing and preparing sales scripts and marketing messages, and
Be better able to connect with your buyers and gain their support.
Using a combination of proven psychology, a hint of theosophy and over 15 year's personal experience leading and growing multi-million pound/dollar profit businesses, I've developed this course with the "essentials" in mind. Focusing on tackling the emotional source of the "buying decision", my goal for you is deeper understanding and practical application, that makes a difference to sales.
Through video training with me personally; workbooks, mind-maps and cheat-sheets for you to refer to after the course, I keep the science simple, the insight deep, and the practical application highly relevant. At the end of the course, you'll also be able to download a complete audio mp3 version, to listen to any time you choose.
So, simply click on the "Buy Course" button on this page, and you'll be guided by me every step of the way from introduction through to completion, and even beyond through on-line communication and regular updates, because I am committed to you not just learning, but benefiting from what you learn.
You see, while I have over 20 years' experience working at a close and personal level with both high-value clients, and high volume customers, it was always the "deep pocketed corporates" who benefited from my services, giving them an unfair advantage over independent business owners and the individual sales and marketing staff who work for them.
But, now it's time to level the playing (or rather selling) field! After many years and tens of thousands of personal investment in learning from and working with some of the top teachers, coaches and trainers in personal psychology, I am now sharing with YOU, the MOST effective wisdom, knowledge and techniques I have found in building and demonstrating deep empathy, engaging rapport, and sense of connection with buyers. Knowledge normally reserved for high paying one-to-one clients, but which I want you to have NOW for a mere fraction of the cost, through this Udemy course!
So, if you're a business owner, leader, manager or employee committed to growing your business through deeply understating what's stopping your market buying from you, (or know someone who is), and you want to break through the beliefs you buyer has, beliefs that create barriers to them buying from YOU…