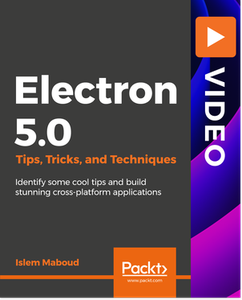 Electron 5.0 Tips, Tricks, and Techniques
MP4 | Video: AVC 1280x720 | Audio: AAC 44KHz 2ch | Duration: 3.5 Hours | 769 MB
Genre: eLearning | Language: English
Electron has gained immense popularity over the years as a reliable tool for modern desktop applications. The new 5.0 release brings some great features to the table, allowing developers to build more powerful cross-platform apps.
If you're a developer has and have been using Electron to build desktop apps, this course will take you from where you currently are to the point where you're better at building stunning desktop apps in Electron. You'll find tips and tricks on how to make your application designs more practical and user-friendly; you'll also learn how to use advanced Electron features to improve the performance of your apps and fix errors and bugs quickly.
By the end, you'll have mastered a plethora of tips, tricks, and techniques that will make you a lot more confident about building powerful desktop apps.
The code bundle for this video course is available at -
https://github.com/PacktPublishing/Electron-5.0-Tips-Tricks-and-Techniques