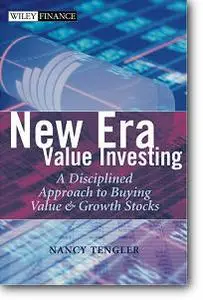 Nancy Tengler, «New Era Value Investing: A Disciplined Approach to Buying Value and Growth Stocks»
Wiley | ISBN 0471266086 | 2003 Year | PDF | 1,39 Mb | 240 Pages
In the 1990s, America's focus on productivity and innovation led to huge gains in technology, communication, and healthcare stocks, and contributed to the transformation of the U.S. stock market from a value (dividend-paying orientation) to a growth (nondividend-paying) bias. During this time, forward thinking value managers began to develop analytical tools for valuing nondividend paying stocks. These tools allowed them to evaluate and identify the best investments in both traditional and nontraditional value sectors. At the forefront of this movement was author Nancy Tengler who, along with Noel DeDora, developed "Relative Value Discipline," an approach-which combines two proven methods for valuing growth stocks: Relative Dividend Yield and Relative-to-Price Sales. The combination of these approaches allows individuals to invest across the investment universe regardless of dividend policies. New Era Value Investing introduces the proven method known as Relative Value Discipline by combining the excitement of developing a new investment discipline with the lessons learned through the application of this new methodology in the real world. In addition to providing an insider's look at an investment manager's experience in adopting a new investment approach, this book creates a context for understanding the transformation of the U.S. economy, and offers expert insights beyond those of traditional value theory.