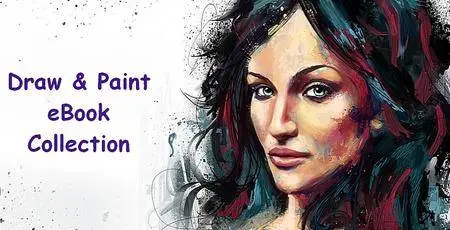 Draw & Paint - eBook Collection
English | 1996-2015 | PDF | 50 books | 1,3 Gb
You'll find clear, insightful step-by-steps, art demonstrations as well as tips and troubleshooting from the best instructors teaching today. Every art medium you want to explore is here along with amazing tutorials on our most popular subject matters. Whether you are a beginner or well on your journey as an artist, you will find what you need in this books library for painting and drawing lessons.
Airplanes and Ships You Can Draw by Nicole Brecke and Patricia M. Stockland
Anatomy for Fantasy Artists An Illustrators Guide to Creating Action Figures and Fantastical Forms
Andrew Loomis - Creative Illustration
Andrew Loomis - Drawing Heads And Hands
Andrew Loomis - Figure Drawing For All It's Worth
Andrew Loomis - Fun With A Pencil
Andrew Loomis - Successful Drawing
Andrew Loomis - The Eye Of The Painter
Basic Painting And Drawing Principles
Betty Edwards - A Course In Mastering The Art Of Mixing Colors
Bridgman's Complete Guide To Drawing From Life
Burne Hogarth - Drawing Dynamic Hands
C.Grafton - Ancient and Medieval Arms and Armor
Christopher Hart - Drawing Cutting Edge Anatomy
Christopher Hart - Drawing Cutting Edge Comics
Christopher Hart - How To Draw Comic Book Heroes And Villains (Part 1 - Awesome Anatomy)
Christopher Hart - How To Draw Comic Book Heroes And Villains (Part 2 - Zap! Pow! Crunch!)
Christopher Hart - How To Draw Comic Book Heroes And Villains (Part 3 - Fantastic_Foes)
Christopher Hart - How To Draw Great-Looking Comic Book Women
Drawing Mentor 1-3 - Sarah Bowles
Drawing: People with William F. Powell: Learn to paint step by step
Drawing People for the Absolute Beginner - Mark and Mary Willenbrink
Draw Real People! - Lee Hammond
Dynamic Figure Drawing - Burne Hogarth
Face Off How to Draw Amazing Caricatures & Comic Portraits - Harry Hamernik
Fantasy Art by Larry Elmore
Figure drawing basics
Force Dynamic Life Drawing for Animators
Frederic Delavier Strength Training Anatomy 2nd Edition
Giovanni Civardi - Drawing Portraits Faces And Figures
How To Draw Cars & Trucks
How To Draw Unique Characters
Human Anatomy For Artists
Jack Hamm - Drawing The Head And Figure
Jean Long - Chinese Ink Painting
John Hagan - Painting beyond fashion
Ken HultgrenThe Art Of Animal Drawing
Learn How To Draw - Drawing Lessons
Learn How To Draw
Norling - Perspective Made Easy
On Drawing Trees and Nature. A Classic Victorian Manual with Lessons and Examples
Perspective - A Guide for Artists, Architects and Designers (Gwen White)
Perspective Drawing Handbook - By Joseph D'Amelio
Pocket Atlas Of Human Anatomy
Sheldon Borenstein - See, Feel, Trace, Draw It
Stan Lee - How To Draw Comics The Marvel Way
The Natural Way To Draw - Kimon Nicolaides
The New Drawing On The Right Side Of The Brain
The Vilppu Drawing Manual
Watson Guptill - Dynamic Figure Drawing - Burne Hogarth
Wendon Blake - Portrait Drawing