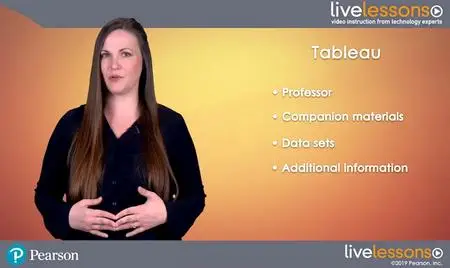 Tableau LiveLessons by Lindy Ryan
MP4 | Video: 1280x720 | Duration: 3 Hours | 720 MB
Author: Addison-Wesley Professional | Language: English | Skill level: All Levels
Learn how to use Tableau to see and understand your business's data better. Tableau is a key player in the business intelligence field. These tutorials will help you use this program to analyze and visualize your organization's data.
Lesson 1: Storytelling in a Digital Era
1.1 Be Part of the Visual Revolution
1.2 Know the Difference
1.3 Plan the Process
1.4 Bridge the Gap

Lesson 2: The Power of Visual Data Stories
2.1 Learn the Science of Storytelling
2.2 The Power of Visual Data Stories

Lesson 3: Getting Started with Tableaue
3.1 Understanding and Using Tableau
3.2 Connecting to Data
3.3 Basic Data Prep
3.4 Navigating the Tableau Interface
3.5 Understanding Dimensions and Measures

Lesson 4: Importance of Context in Storytelling
4.1 Seeing Context in Action
4.2 Understanding Exploratory versus Explanatory Analysis
4.3 Structuring Stories
4.4 Analyzing Your Audience for Storytelling

Lesson 5: Choosing the Right Visual
5.1 Building Basic Charts and Graphs
5.2 Using Geographic Data to Build Maps

Lesson 6: Curating Visuals for Your Audience
6.1 Our Visual Horsepower
6.2 Learn the Visual Design Building Blocks

Lesson 7: Preparing Data for Storytelling
7.1 Prepping Data with Data Interpreter
7.2 Handling Nulls in Tableau
7.3 Reshaping Survey Data with Tableau 101

Lesson 8: Storyboarding Frame by Frame
8.1 Understanding Stories in Tableau
8.2 Storyboarding Your Data Story
8.3 Building Your Story

Lesson 9: Advanced Storytelling Charts
9.1 Creating Advanced Charts
Summary