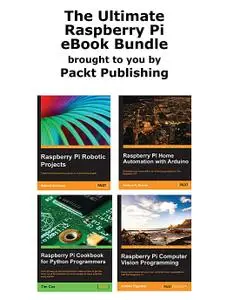 The Ultimate Raspberry Pi eBook Bundle [4 books in 1]
English | 2016 | ISBN: n/a | True PDF | 1037 pages | 4 books | 54 Mb
Raspberry Pi, Programming
You're going to get four awesome eBooks about the awesome world of Raspberry Pi and each covers a different aspect of the Pi world, and each will teach you a ton about making the most of the tiny computer.
Here's your chance to find new inspiration and to push the boundaries of what you thought was possible with tech.
To give you a little more perspective on what you'll be getting if you download this bundle of eBooks, we're talking about over 1000 pages of Raspberry Pi content. These are not four Pi pamphlets running around calling themselves eBooks. No, these are full length books packed with useful information.
Whether you want to built a robot, learn Python, automate tasks around your home, or almost anything else you can think of with your powerful little computer, the content offered in these eBooks have you covered!
This four-book bundle includes:
* Raspberry Pi Computer Vision Programming
* Raspberry Pi Cookbook for Python Programmers
* Raspberry Pi Home Automation with Arduino
* Raspberry Pi Robotic Projects
ISBN's: 9781784398286; 9781849696623; 9781849695862; 9781849694322