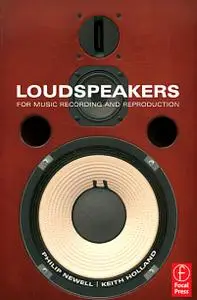 Loudspeakers: For Music Recording and Reproduction by Philip Newell, Keith Holland
English | 2016 | ISBN: 0240520149 | PDF | 422 pages | 14 Mb
Acoustics & Sound
Need advice on which type of speaker to use and where? Very often the choice and positioning of loudspeakers is down to intuition, hearsay and chance. This practical guide explores the link between experience and the technology, giving you a better understanding of the tools you are using and why, leading to greatly improved results.
Newell and Holland share years of experience in the design, application and use of loudspeakers for recording and reproducing music. Get practical advice on the applications of different loudspeakers to the different phases of the music recording and reproduction chain.
If you are using loudspeakers in a recording studio, mastering facility, broadcasting studio, film post production facility, home or musician's studio, or you inspire to improve your music reproduction system this book will help you make the right decisions.