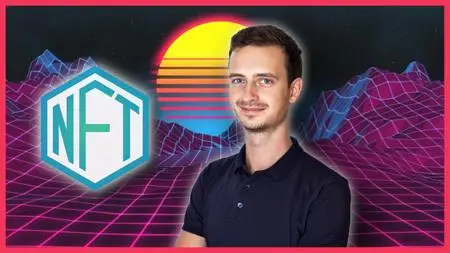 NFT Course 2021 - Create, Sell or Invest in NFTs Today
Duration: 1h 31m | .MP4 1280x720, 30 fps(r) | AAC, 44100 Hz, 2ch | 1.9 GB
Genre: eLearning | Language: English
Master NFT and Blockchain Fundamentals From Scratch In 1 Hour to Start Creating, Selling or Investing in NFTs Today!
What you'll learn:
How to Create an NFT on AtomicHub Almost For Free and Sell It
How to Create an NFT on Opensea and Sell It
How to Buy an NFT on Opensea
How to Buy an NFT on AtomicHub
How to Use a Crypto Exchange Like Bitstamp to Buy ETH
How to Use MetaMask Wallet to Transfer Cryptocurrencies
How to Use WAX Cloud Wallet to Buy WAXP
What Are Smart Contracts and How Do They Work
What is an NFT
How NFTs Work
What Gives an NFT It's Value
History of NFTs
NFT Use Cases
NFTs and Intellectual Property or What Not to Do as an NFT Artist
The Future of NFTs
What is Blockchain and How Does It Work
What Problems Blockchain Technology Solves
How Blockchain Consensus Protocols (PoW & PoS) Work
Requirements:
NO special requirements needed
You only need a computer/tablet/smartphone and internet connection
If you are curious about the technology or art, that's enough to participate :)
Description:
Welcome to the NFT Course, the only course you need to master NFT and Blockchain fundamentals in 1 hour, so you can start creating, selling or investing in NFTs almost for free today.
Created in July of 2021, makes it the most up to date NFT online course on the market. We will also update the course constantly, when some major changes happen in the NFT ecosystem.
By the end of this course, you will be confident about the NFT and Blockchain fundamentals, and you will be ready to create, sell or invest in NFTs.
You'll also get a good understanding on how to promote your NFT art in order to increase your chances of selling them.
Sign up today, and look forward to:
NFT Theory Video Lectures
Blockchain Fundamentals Video Lectures
Practical Step-by-Step Video Tutorials on Creating, Selling and Buying NFTs
Practical Step-by-Step Video Tutorials on Using MetaMask Wallet, WAX Cloud Wallet
PDF Step-by-Step Guide on Minting NFTs on AtomicHub
PDF Guide on Mistakes to Avoid When Minting NFTs
An article with practical tips on how to promote your NFTs
We'll take you step-by-step through engaging video tutorials and teach you everything you need to know to succeed as a NFT artist and collector.
REMEMBER, we're so confident that you'll love this course that we're offering a FULL money back guarantee for 30 days! So it's a complete no-brainer, sign up today with ZERO risk and gain NEW IN-DEMAND SKILLS.
So what are you waiting for? Click the buy now button and join the amazing community of NFT artists and collectors, and be ready for the future.
***NON-AFFILIATION DISCLAIMER***
This site and online course is not endorsed by, directly affiliated with, maintained, authorized, or sponsored by any website or company mentioned in the videos or in other course-related materials.
***FINANCIAL DISCLAIMER***
We are not financial advisors. The content on this website and in our course are for educational purposes only and merely cite our own personal opinions. In order to make the best financial decision that suits your own needs, you must conduct your own research and seek the advice of a licensed financial advisor if necessary. Know that all investments involve some form of risk and there is no guarantee that you will be successful in making, saving, or investing money; nor is there any guarantee that you won't experience any loss when investing. Always remember to make smart decisions and do your own research!
Who this course is for:
Beginner NFT artists, collectors and entrepreneurs interested in this space
Digital artists wanting to create and sell their own NFTs
Non-digital artists wanting to create and sell their own NFTs
Investors interested in NFTs and blockchain
Also for intermediate and more advanced users wanting to refresh your fundamentals
Everyone interested in NFTs and blockchain
More Info