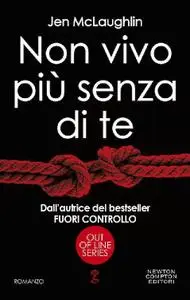 Jen McLaughlin - Non vivo più senza di te
Italian | Newton | 2017 | EPUB | Pages 174 | ASIN: B06WD3NZRM | 0.22 Mb
Il caso editoriale che ha fatto battere il cuore di migliaia di lettrici Out Of Line Series Dall'autrice del bestseller Fuori controllo Trovare la mia fidanzata nuda sul divano sarebbe stata una bella cosa, se non ci fosse stato il suo ex fidanzato con lei. Negli ultimi otto anni ho conosciuto il potere del vero amore, ma dopo essere stato ferito ho deciso che non c'era speranza di trovarne ancora. Finché non ho incontrato Noelle Brandt al bar di un albergo. Forse non è stato il modo più romantico di incontrarsi, ma nell'istante in cui l'ho vista ho saputo che dovevo averla. Più la conosco e più so che farei qualsiasi cosa per tenerla accanto a me. Ho già trovato l'amore della mia vita, ma l'ho perso per sempre. E da allora mi sono sempre sentita smarrita. Ma una sera un uomo ferito ha cancellato tutto. Mi ha fatto ridere, mi ha fatto sentire viva. Quando mi ha detto che non aveva nessuna intenzione di lasciarmi andare, finalmente ho ricominciato a credere nel potere del vero amore. Almeno finché non ho scoperto chi è veramente. E a quel punto è stato troppo tardi per correggere gli errori che avevamo già fatto. Una volta scoperta la verità, i confini erano già stati ampiamente oltrepassati. Jen McLaughlinAutrice di romanzi New Adult, autopubblicatasi sotto lo pseudonimo di Diane Alberts, scrive adesso per diverse case editrici. Vive in Pennsylvania. Fuori controllo, primo volume della serie Out of Line, ha avuto così tanto successo che Jen McLaughlin è stata nominata da «Forbes» assieme a E. L. James (l'autrice delle 50 sfumature) come una delle autrici più influenti. Oltre a Fuori controllo, la Newton Compton ha pubblicato anche Un disperato bisogno di te, Ogni volta che sei qui e Mi manchi tu.