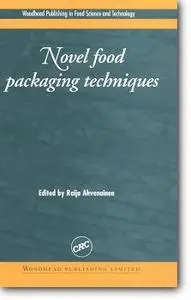 Raija Ahvenainen, «Novel Food Packaging Techniques»
CRC | ISBN 0849317894 | 2003 Year | PDF | 4,72 Mb | 590 Pages
Edited by a leading expert in the field, and with a distinguished international team of contributors, Novel Food Packaging Techniques provides an authoritative and comprehensive review of the key trends. The book covers the range of active packaging techniques and the use of intelligent systems such as time-temperature and freshness indicators to assess food quality. It reviews developments in modified atmosphere packaging and its role in enhancing product safety and quality, describes packaging applied in practice to particular products such as meat and fish, and discusses other key issues such as packaging optimization, the legislative context, sustainable packaging and consumer attitudes.
Password (if required):
:
www.AvaxHome.ru
Download from Rapidshare
Бонус | Bonus
My other uploaded eBooks (1900+) - links and descriptions
Другие книги, закаченные мной (более 1900) - ссылки и библиографические данные
New!
version 6 (May 03 2006) [1,1 Mb] | Format: txt
Download eBooks list from Mytempdir
Download eBooks list from Rapidshare
If you need a book from the list but the link doesn't work
anymore, send me a message. Also write me about dead links in my other posts, please.
Если Вам необходима книга из списка, а ссылка на нее не работает, то отправьте мне сообщение. Также пожалуйста отправляйте мне сообщения о нерабочих ссылках в моих постах.