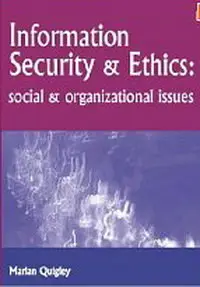 Information Security and Ethics: Social and Organizational Issues
Springer | 190 pages | 2006 | ISBN: 1591402336 | PDF | 1.14 mb
Emphasizing the importance of ethics to electronic societies, fourteen chapters by an international panel of academics in information technology and business provide an overview of the growing field of information ethics and its intersection with information security. Chapters delve into topics including the digital divide; the ethics of Web design; access to technology by the disabled; Internet voting; security insights from the attacks of Sept. 11, 2001; information security policies in large organizations; and digital rights management.Copyright © 2004 Book News, Inc., Portland, OR Book Description Information Security and Ethics: Social and Organizational Issues brings together examples of the latest research from a number of international scholars addressing a wide range of issues significant to this important and growing field of study. These issues are relevant to the wider society, as well as to the individual, citizen, educator, student and industry professional. With individual chapters focusing on areas including: web accessibility, the digital divide, youth protection and surveillance, this book provides an invaluable resource for students, scholars and professionals currently working in Information Technology related areas.