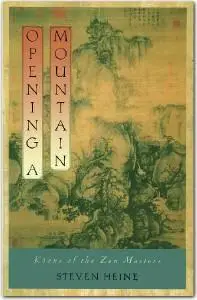 Steven Heine, «Opening a Mountain : Koans of the Zen Masters»
Oxford University Press | ISBN 0195135865 | 2002 Year | linked png-files | 16,88 Mb | 216 Pages
In Opening a Mountain, Steven Heine takes a unique look at the Zen koan, delving into its mythological background and its relationship to folk beliefs. Even with available commentaries, koan are enigmatic at best, but in a virtuosic display of historical and textual scholarship, Heine brings us a step closer to understanding what the koan are saying and where they come from. Why are there spirits or supernatural rivals in koan? What is the significance of the staff or fly-whisk the monk carries? Why are mountains so central? These are some of the questions that Heine answers as he examines 60 handpicked koan, case by case, first translating them complete with their original commentary, then offering his own discussion that covers textual points, then going into the role of supernatural and ritual imagery. Scholarly in tone, Opening a Mountain opens up a new dimension in the study of Zen koan.