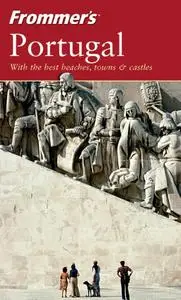 Darwin Porter & Danforth Prince, «Frommer's Portugal», 18th Edition
Wiley Publishing | ISBN 0-7645-4282-6 | 2004 | 441 pages | PDF | 3,58 MB
As Portugal moves deeper into a new century with a new currency, the landscape is forever changing, although the old-fashioned traditions such as handcrafts and architecture remain to
delight new visitors every year. Experiencing the greatest changes are Lisbon, the Costa do Sol (Estoril and Cascais), the emerging city of Porto, and the forever volatile Algarve, the beachfront strip along the southern coast. Here are some major developments that could have an impact on your trip. LISBON ACCOMMODATIONS In the heart of Lisbon, VIP Eden (Lisbon; & 1/321-66-00) has opened and has won architectural awards for its recycling of an Art Deco landmark, the Eden Theatre. Now converted to a sleek new 134-room apartment house, it offers suitelike living arrangements complete with fully equipped kitchenettes ideal for families. Even bigger excitement is being generated by the opening of the 14-room Solar do Castelo (Lisbon; & 21/887-09-09) within the walls of St. George's Castle, crowning the Alfama hilltop overlooking the city. This atmospheric and first-rate hotel was constructed on the site of the former kitchens of Lisbon's first Royal Palace, offering beautifully furnished bedrooms. At Parque das Nações, Lisbon has its third Tivoli Hotel, this one called Tivoli Tejo, Avenida D. João II (& 21/891-51-00), a glistening 279-room hotel just a 2-minute walk from the splendid new transportation hub, Estação do Oriente.
Offering rooms in a wide range of sizes and configurations, this is one of the best equipped hotels in Lisbon, complete with a 16th-floor gourmet restaurant and a dramatic indoor pool.
See chapter 3. LISBON DINING Standing virtually under the Ponte do 25 de Abril (25th of April Bridge), Doca Peixe (Lisbon; & 21/397-35-65) means "Fish Dock" in Portuguese, and that
aptly describes the first-rate offerings served here nightly in an evocative nautical ambience. Check out the wide range and variety of offerings in the aquarium at the entrance. In the
increasingly fashionable Parque das Nações district, Restaurante Panoramico Torre Vasco da Gama (Lisbon; & 21/893-95-50) has become the restaurant of choice, not only for its exciting international menu, but also for its panoramic seascape views that include the vast span of the Vasca da Gama Bridge stretching over the Tagus river. The restaurant is installed atop a
new landmark built for the World Expo show. See chapter 3 for more details.