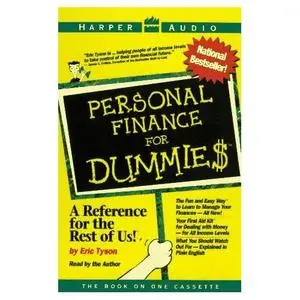 Eric Tyson (Author), Newman Stephen (Narrator)
«Personal Finance for Dummies (Audio Cassette) AUDIO BOOK»
HarperAudio | ISBN: 978-0694516667 , 069451666X | (March 1, 1996) | mp3 | 64 Kbps | 40.5 MB | English
Book Description
Of course you work for your money. The question is, does your money workfor you? You know you owe it to yourself and your family to make the bestpossible fiscal decisions. So why aren't you managing your money better?Perhaps you think that you don't have enough extra cash to bother learningmore about money management (a common myth). or maybe phrases such as "mutualfunds,""long-term bonds," "annuities," and "whole lifevs. term" make your head spin.
For all those people who don't know the difference between the commoditiesmarket and the supermarket, here is expert and trustworthy advice from afinancial counselor and lecturer who speaks your language. Cutting throughthe jungle of statistical complexity, Personal Finance for Dummiesshows you how to make easy work of your own finances, no matter what yourincome or experience level. Greater return for your money, with less anxiety– that's a bargain if we ever heard one.
Discover how to
* Set priorities and stick to them
* Avoid identity theft and scams
* Make smart investments
* Protect what you?ve earned
* Identify the best resources
Book Info
Provides information needed to take control of finances, cut taxes, and achieve your financial goals. Discusses how to assess your financial situation, reduce spending and debt, and build wealth with wise investments. Softcover. –This text refers to an out of print or unavailable edition of this title.
From the Publisher
With more than one million copies of previous editions in print, Personal Finance For Dummies is the #1 bestselling …For Dummies consumer title ever. –This text refers to an out of print or unavailable edition of this title.
Back Cover Copy
"By far, the best book I have read on financial planning." Althea Thompson, PBS Nightly Business Report "Detailed, action-oriented advice… A standout personal finance primer." Kristin Davis, Kiplinger's Personal Finance Praise for Personal Finance For Dummies® "Among my favorite financial guides." — The Wall Street Journal "Tyson doesn't tell you what to do or consider doing without explaining the hows and whys — and the booby traps to avoid—in plain English." — Chicago Tribune "Smart advice…. Rewards your candor with advice and comfort." — Newsweek
Wall Street Journal bestseller — over 1 million copies in print!
Expert advice now completely updated
Do you have trouble identifying and managing your financial priorities? Are you confused by today's investment options? Relax! This friendly guide, now updated with new advice on Internet resources, gives you just the information you need to take control of your finances, cut your tax bill, and achieve your financial goals.
About the Author
Eric Tyson first became interested in money more than three decades ago. After his father was laid off during the 1973 recession and received some retirement money from Philco-Ford, Eric worked with his dad to make investing decisions with the money. A couple years later, Eric won his high school's science fair with a project on what influences the stock market. Dr. Martin Zweig, who provided some guidance, awarded Eric a one-year subscription to the Zweig Forecast, a famous investment newsletter. Of course, Eric's mom and dad share some credit with Martin for Eric's victory.
After toiling away for a number of years as a management consultant to Fortune 500 financial-service firms, Eric finally figured out how to pursue his dream. He took his inside knowledge of the banking, investment, and insurance industries and committed himself to making personal financial management accessible to all.
Today, Eric is an internationally acclaimed and bestselling personal finance book author, syndicated columnist, and speaker. He has worked with and taught people from all financial situations, so he knows the financial concerns and questions of real folks just like you. Despite being handicapped by an MBA from the Stanford Graduate School of Business and a B.S. in Economics and Biology from Yale University, Eric remains a master of "keeping it simple." An accomplished personal finance writer, his "Investor's Guide" syndicated column, distributed by King Features, is read by millions nationally, and he was an award-winning columnist for the San Francisco Examiner. He is the author of five national bestselling financial books in the For Dummies series on personal finance, investing, mutual funds, home buying (coauthor), and taxes (coauthor). The prior edition of this book was awarded the Benjamin Franklin Award for best book of the year in the Business category.
His latest book, Mind Over Money: Your Path to Wealth and Happiness (CDS/Perseus), examines the problematic financial habits people engage in and provides proven strategies for overcoming them.
Eric's work has been featured and quoted in hundreds of local and national publications, including Newsweek, The Wall Street Journal, Los Angeles Times, Chicago Tribune, Forbes, Kiplinger's Personal Finance magazine, Parenting, Money, Family Money, and Bottom Line/Personal; on NBC's Today Show, ABC, CNBC, PBS Nightly Business Report, CNN, and FOX-TV; and on CBS national radio, NPR's Sound Money, Bloomberg Business Radio, and Business Radio Network.