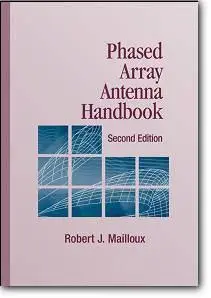 Robert J. Mailloux, «Phased Array Antenna Handbook, Second Edition»
Artech House Publishers | ISBN 1580536891 | 2005 Year | PDF | 4,74 Mb | 508 Pages
This newly revised edition of the Artech House classic, Phased Array Antenna Handbook, offers the most up-to-date and broadest view of array antennas and systems. You find complete design details that allow you to size an array system with speed and confidence. The second edition offers you a wealth of new material, including a detailed treatment of antenna system noise, sections on antenna pattern synthesis, developments in subarray technology, and in-depth information on array architecture and components.
Moreover, you find expanded coverage of systems aspects of arrays for radar and communications. Supported with over 350 equations and more than 270 illustrations, this practical book helps you evaluate basic antenna parameters such as gain, sidelobe levels, and noise. You learn how to compute antenna system noise, design subarray geometries for given bandwidth, scan and sidelobe constraints, and choose array illumination tapers for given sidelobe levels.