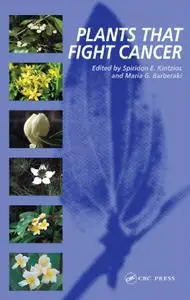 Spiridon E. Kintzios, «Plants that Fight Cancer»
CRC | ISBN 0415298539 | 2004 Year | PDF | 4,2 Mb | 312 Pages
Invaluable for those engaged in cancer therapy or research, Plants that Fight Cancer is an extensive review of plant genera and species with documented anticancer properties. The current conclusions are described, along with conventional, advanced and alternative treatments for cancer. More than 150 plant genera and species are examined, including their distribution, botany, traditional usage, active ingredients and product applications, as well as expected results and risks. An analysis of algal extracts and isolated metabolites is included, as well as a summary of published research for each species. For experts, the chemical structures of the most important compounds are also listed.
Book Info
Agricultural Univ. of Athens, Greece. Provides an extensive survey of the plant genera and species having anti-tumor and anti-leukaemic properties. Explores the botany, traditional uses, active ingredients, toxicity, and documented target cancers as well as reviewing the latest findings for each genera. For researchers.
download here