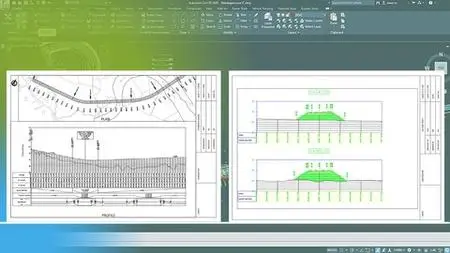 Plotting Civil 3D Road Designs - Beginner's Guide
Genre: eLearning | MP4 | Video: h264, 1280x720 | Audio: AAC, 44.1 KHz
Language: English | Size: 1.22 GB | Duration: 2h 2m
Plan Production with AutoCAD Civil 3D
What you'll learn
Create title box and viewports to match paper sizes
Create plan profile sheets and cross section sheets
How to get proper print (plot) output from Civil 3D road designs
Various tips and tricks related to Civil 3D
Requirements
If you have followed my course 'Road Design With Civil 3D' it will be a good starting point. Further you need to have certain idea on basic AutoCAD functions like working with layers.
Know the AutoCAD basics of plotting will be an added advantage.
Description
In this course, we will be looking at how to plot road design drawings with AutoCAD Civil 3D. This course is created more related to a Highway Engineering background.
The version used in this course is Civil 3D 2020. However, you can use Civil 3D 2018 to 2022 to follow this course.
This course is an addon to my previous course 'Road Design with AutoCAD Civil 3D'. Learning the content of that course would give you a better idea to follow this course.
Knowing the basics of AutoCAD such as layer management would be an added advantage while following this course.
Even though the course is intended for beginners, students at all levels can use this to get to know about plan production tools in Civil 3D. Not only plan production tools I will be teaching you various tips and tricks of using AutoCAD Civil 3D throughout the course.
The course content is as follows.
1. Create Title Block
2. Create page setup
3. Create View Ports
4. Set Scales for viewports
5. Add North Arrow
6. Add Drawing Details
7. Save Layout as a template
8. Create View Frames
9. Create Sheets
10. Modify Sheets
11. Understanding Plan Production Process
12. Export Drawing AutoCAD
13. Plotting Plan Profile Sheets
14. Create Section Sheet Template
15. Create Section Sheets Part 1
16. Create Section Sheets part 2
17. Plotting Section Sheets
Who this course is for
Engineers, Draughtsman, CAD operators
Any who use road design with Civil 3D