Pain.Medicine.&.Management_Just.The.Facts_M.Wallace-P.Staats_McGraw-Hill_2005_0071411828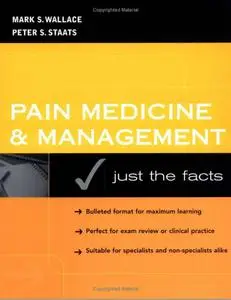 Title: Pain Medicine and Management: Just the Facts
Author: by Mark S. Wallace (Author), Peter Staats (Author), Mark Wallace (Author)
Publication: 1 edition (May 7, 2004)
ISBN: 0071411828
Language: English
Publisher: McGraw-Hill Professional
Hardcover: 416 pages
Dimensions: 10.9 x 8.6 x 0.6 inches
Price: $57.95
Book Description
"The American Board of Anesthesiology offers a written examination in pain medicine designed to test for the presence of knowledge that is essential for a…" (more)
A quick reference to the management of pain for specialists as well as general medical practitioners and residents. Written in a concise bulleted format, the content is limited to only the essential facts necessary for assessment and treatment of common pain conditions and presentations. A perfect review tool for both the anesthesia and pain medicine board exams.
Download Description
This concise, yet comprehensive review is the perfect tool to prepare for certification, re-certification, CME-or for use as a clinical refresher. Featuring the insights of the world's leading authorities, its highly efficient format conveniently condenses and simplifies only the most important content, for maximum yield and comprehension. Features: *Perfect for pain medicine and anesthesiology exams-or as a concise clinical consult on the major presentations and interventions in pain *Standardized, bulleted format highlights and summarizes key concepts, to assure quick absorption of the material and reinforce your understanding of even the most difficult topics *All key topics covered including physiology, patient assessment, therapeutics and interventional therapies, chronic and acute pain, disability, special techniques, and much more *Gain easy access to state-of-the-art alternative treatments such as acupuncture and TENS, new treatments for AIDS- and cancer-related pain, and more *Chapters are logically organized to help focus your study and provide quick access to topics: ABBREVIATED CONTENTS: *Test Preparation and Planning *Basic Physiology *Evaluation of the Pain Patient *Analgesic Pharmacology *Acute Pain Management *Regional Pain *Chronic Pain Management *Special Techniques in Pain Management *Disability
The new link is here :
http://rapidshare.de/files/35767336/P-M-M-J-T-F.rar
MD5: 065EEBC8F9769128137AD933CE485781
6.31 MB
and
PW = kapioskanis
NOTE : Other Stuff too in folder
http://rapidshare.de/users/OSZ5RR
F-PW=OSZ5RR
PS
Please, NEED points for keeping alive the Folder.
Thank you, for NOT mirroring, in advance.