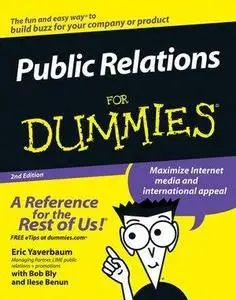 Public Relations For Dummies
For Dummies | ISBN 0471772720 | December 6, 2006 | 384 pages | PDF File | 3.03mb RAR Download | 6.60mb uncompressed
When it comes to public relations, nothing beats good word of mouth. Want to get customers talking? This friendly guide combines the best practical tools with insight and flair to provide guidance on every aspect of PR, so you can launch a full-throttle campaign that'll generate buzz – and build your bottom line.