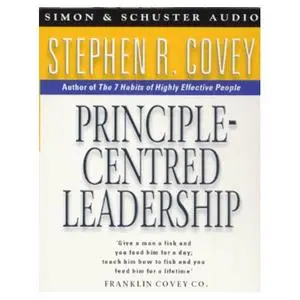 Stephen R. Covey
«Principle-centered Leadership AUDIO BOOK»
Simon & Schuster Audio | ISBN 978-0671011130 | (January 4, 1999) | mp3 | 128 Kbps | 78.9 MB | English

Book Description
How do we as individuals and organizations survive and thrive amid tremendous change? Why are efforts to improve falling so short in real results despite the millions of dollars in time, capital, and human effort being spent on them? How do we unleash the creativity, talent, and energy within ourselves and others in the midst of pressure? Is it realistic to believe that balance among personal, family, and professional life is possible?
Stephen R. Covey demonstrates that the answer to these and other dilemmas is Principle-Centered Leadership, a long-term, inside-out approach to developing people and organizations. The key to dealing with the challenges that face us today is the recognition of a principle-centered core within both ourselves and our organizations. Dr. Covey offers insights and guidelines that can help you apply these principles both at work and at home – leading not just to a new understanding of how to increase quality and productivity, but also to a new appreciation of the importance of building personal and professional relationships in order to enjoy a more balanced, more rewarding, more effective life.
Book Info
From the author of Seven Habits of Highly Effective People, Dr. Covey offers insights and guidelines that can help you apply leadership principles at work and at home. Paper. Success Psychological aspects.
Simon & Schuster
The Eternal Drive for Excellence No matter what level of success we have achieved, none of us can be content to stay where we are. Within all of us lies an innate desire for progress in every aspect of our lives. In order to harness and utilize this internal drive in ourselves and those around us, we must learn to center our lives according to a set of certain basic principles Stephen R. Covey, author of the runaway bestseller The 7 Habits Of Highly Effective People, tells us how to apply these principles to the problems we face every day–-and how to meet the goals of all strong business leaders: quality, productivity, profitability, and win-win relationships. According to Covey, ineffective people try to manage their time around priorities, often losing sight of the fundamental character and skill development necessary for effective leadership. Here he draws on 25 years of consulting and teaching to provide new methods and practices that will improve our managerial, interpersonal and organizational lives. Using the same insightful and sensitive style that made The 7 Habits Of Highly Effective People a #1 national audio bestseller, Principle-Centered Leadership provides the keys to life-long learning–-each one unlocking the doors to personal fulfillment and professional success. –This text refers to the CD-ROM edition.
About the Author
Stephen R. Covey is an internationally respected leadership authority, family expert, teacher, organizational consultant, founder of the former Covey Leadership Center, and cochairman of Franklin Covey Co. He has made teaching Principle-Centered Living and Principle-Centered Leadership his life's work. He holds an M.B.A. from Harvard and a doctorate from Brigham Young University, where he was a professor of organizational behavior and business management and also served as director of university relations and assistant to the president. For more than thirty years he has taught millions of individuals, families, and leaders in business, education, and government the transforming power of principles or natural laws that govern human and organizational effectiveness.
Dr. Covey is the author of several acclaimed books, including The 7 Habits of Highly Effective People, which has been at the top of the bestseller lists for over seven years and tied as the #1 Most Influential Business Book of the Twentieth Century in a survey of Chief Executive Magazine's readers. More than ten million copies have been sold in twenty-eight languages and seventy countries. His books Principle-Centered Leadership and First Things First are two of the bestselling business books of the decade.
Dr. Covey and other Franklin Covey authors, speakers, and spokespersons, all authorities on leadership and effectiveness, are consistently sought by radio and television stations, magazines, and newspapers throughout the world.
Among recent acknowledgments, Dr. Covey has received the Thomas More College Medallion for continuing service to humanity, the Toastmasters' International Top Speaker Award, Inc. magazine's National Entrepreneur of the Year Lifetime Achievement Award for Entrepreneurial Leadership, and several honorary doctorates. He has also been recognized as one of Time magazine's twenty-five most influential Americans.
Stephen, his wife, Sandra, and their family live in the Rocky Mountains of Utah.
Review
Sam Walton
Chairman, Wal-Mart Stores, Inc.
Covey's
philosophy for creating more meaningful relationships and successes in the workplace is one we should be striving to implement throughout business and industry, in the home and elsewhere, if we expect to be rewarded with happiness and a fulfilling future. I truly believe that the values he stresses in Principle-Centered Leadership are fundamental to developing a total quality environment.
Catherine Crier
CNN News Anchor
The world is in dire need of a paradigm shift in attitudes and values. Stephen Covey gives us the blueprint with which to create a better personal, business, and political environment and produce this fundamental change. All we need do – is act!
Thomas R. Horton
Chairman, American Management Association
As if Covey's first book The Seven Habits of Highly Effective People, was not enough, his new book Principle-Centered Leadership is a real tour de force.
Phyllis J. Dudenhoffer
International President, General Federation of Women's Clubs
Principle-Centered Leadership gave me new insights into working with and for our volunteers. The ideas are basic, yet as we go through our life's work we sometimes overlook the simple basic truth. This book inspires me to build a better life.
Joshua Hammond
President, American Quality Foundation
We consider Stephen R. Covey to be one of the five most important contributors to shaping America's next level of thinking in quality.