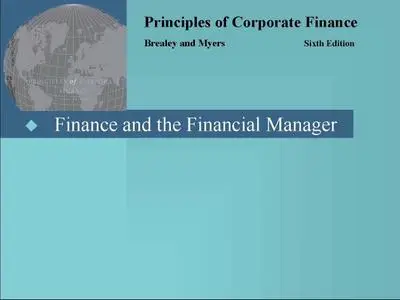 Richard A Brealey, Stewart C Myers, «Principles of Corporate Finance - Presentation Slides»
McGraw-Hill | PDF 816 Pages | 2.54 MB
Book Info:
Corporate Finance, by Richard A. Brealey, Stewart C. Myers and Alan J. Marcus, has been applauded for its modern approach and interesting examples. Professors praise the authors' well-organized and thoughtful writing style and their clear exposition of what many students consider difficult material. The authors accomplish this without sacrificing an up-to-date, technically correct treatment of core topic areas. Since this author team is known for their outstanding research, teaching efforts, and market-leading finance textbooks, it's no surprise that they have created an innovative, and market-driven revision that is more student friendly than ever. Every chapter has been reviewed and revised to reflect the current environment in corporate finance.
This is the full set of presentation slides that accompany the sixth edition of Principles of Corporate Finance. Will come in handy for anyone studying the book.
About the Authors:
Richard A. Brealey
is professor of Finance at the London Business School. He is the former president of the European Association and a former director of the American Finance Association. He is a fellow of the British Academy and has served as a special advisor to the Governor of the Bank of England and director of a number of financial institutions. Other books written by Professor Brealey include Introduction to Risk and Return from Common Stocks.
Stewart C. Myers
is Gordon Y Billard professor of Finance at MIT's Sloan School of Management. He is past president of the American Finance Association and a research associate of the American Finance Association and a research associate of the National Bureau of Economic Research. His research has focused on financing decisions, valuation methods, the cost of capital, and financial aspects of government regulation of businesses. Dr. Myers is a director of The Brattle Group, Inc., and is active as a financial consultant.
Download:
http://rapidshare.de/files/23671055/Finance_-_Principles_Of_Corporate_Finance.rar