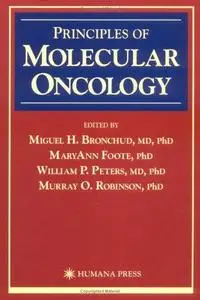 Principles of Molecular Oncology
edited by Migual H. Bronchud, Maryann Foote, William P Peters, Murray O. Robinson
Humana Press | ISBN 0-89603-581-6 | 2000 | PDF | 452 pages | 2.8 MB
Award winning basic scientists and clinical researchers summarize the wealth of new molecular knowledge that sees cancer as a "disease process" involving key regulatory pathways. Emphasizing prevention, early diagnosis, prognosis, and treatment, these authoritative experts from around the world illuminate the variety of molecular markers to be found, interpret what is known about diseased regulatory pathways, and examine those future research directions likely to realize the promise of molecular therapy. From their presentations, readers will gain an understanding of why current therapies fail, and of the new processes now available to identify specific molecular targets for optimal therapeutic efficacy. Comprehensive and path-breaking, Principles of Molecular Oncology offers both basic and clinical oncologists not only a bold synthesis of the rapid and complex advances in molecular biology that are transforming our knowledge of cancer, but also a highly practical guide to today's strategies for its diagnosis and treatment.