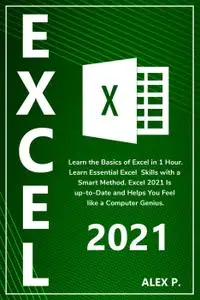 Excel 2021: Learn the Basics of Excel in 1 Hour. Learn Essential Excel Skills with a Smart Method. Excel 2021 Is up-to-Date and Helps You Feel like a Computer Genius. by Alex P.
English | March 26th, 2021 | ISBN: 9781393400134 | 238 pages | True EPUB | 1.76 MB
Want a handy, up-to-date guide to quickly learn basic Excel functions?
Want to know the tips, tricks and shortcuts that make Excel more powerful?
Are you looking for an effective Excel guide for beginners?
Do you want basic Excel commands explained to you in detailed, easy-to-learn language?