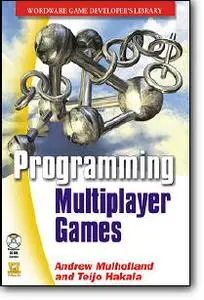 Andrew Mulholland, «Programming Multiplayer Games»
Wordware Publishing | ISBN 1556220766 | 2004 Year | PDF | 3,66 Mb | 500 Pages
This book covers all the major aspects and theory behind creating a fully functional network game, from setting up a stable MySQL backed-end database for storing player information to developing a reusable TCP/IP network library for online games as well as developing web-based server interfaces.
Password
:
www.AvaxHome.ru
Download from Rapidshare
Бонус | Bonus
My other uploaded eBooks (1900+) - links and descriptions
Другие книги, закаченные мной (более 1900) - ссылки и библиографические данные
New!
version 6 (May 03 2006) [1,1 Mb] | Format: txt
Download eBooks list from Mytempdir
Download eBooks list from Rapidshare
If you need a book from the list but the link doesn't work
anymore, send me a message. Also write me about dead links in my other posts, please.
Если Вам необходима книга из списка, а ссылка на нее не работает, то отправьте мне сообщение. Также пожалуйста отправляйте мне сообщения о нерабочих ссылках в моих постах.