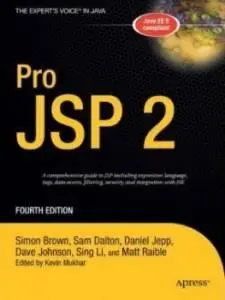 Pro JSP 2 4th Edition 2005
Publisher : Apress
Authors : Simon Brown, Sam Dalton, Daniel Jepp,
Dave Johnson, Sing Li, Matt Raible.
Edition : 4th Edition
Year : December 2005
Size : 5.7 MB
Pages : 728 Pages
ISBN : 1590595130
Info:
This is the first comprehensive guide to cover JSP 2 and 2.1. It supplies
you with the tools and techniques to develop web applications with JSP
and Java servlets.
Release Name:
Apress.Pro.JSP.2.4th.Edition.Dec.2005.eBook-BBL
Download link:
http://rapidshare.de/files/29795394/Apress.Pro.JSP.2.4th.Edition.Dec.2005.eBook-BBL.zip
No Password
You are welcome to download From OxyShare:
http://www.oxyshare.com/get/150355706744f4172b735dd7.45612380/Apress.Pro.JSP.2.4th.Edition.Dec.2005.eBook-BBL.zip.html