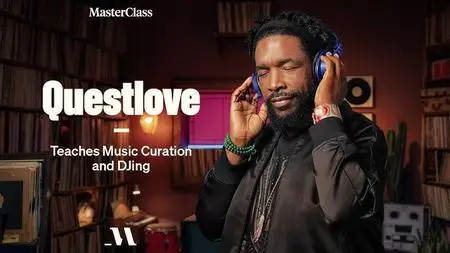 MasterClass - Questlove Teaches Music Curation and DJing
.MP4, AVC, 1920x1080, 30 fps | English, AAC, 2 Ch | 3h 23m | + PDF | 8.82 GB
Ahmir Thompson—better known as Questlove—is an iconic DJ, the drummer for the Roots, and the "coolest man on late night," but his first love is collecting and mixing music. Now the Grammy winner is sharing his passion with you. Explore DJ techniques, expand your musical vocabulary, and learn how to glide from genre to genre—including hip-hop, neo-soul, jazz, R&B, and more—to curate your own perfect playlist.
Considered a Renaissance man of music, Ahmir "Questlove" Thompson seems to move as fluidly among accomplishments as his playlists do among genres. Drummer for and cofounder of the acclaimed band the Roots, he's also a producer, designer, and New York Times bestselling author, in addition to his role as musical director for The Tonight Show Starring Jimmy Fallon.
A four-time Grammy Award–winning musician with a directorial debut in 2021, Questlove has followed his passion for music in nearly every medium—but he's never shared his creative process before now. In his MasterClass, he's opening up about his passion and teaching you his techniques for effective DJing and creating playlists with maximum emotional impact.
Lessons in this online class include:
• Music appreciation and techniques for categorizing and organizing music
• Counting rhythm
• Setting cue points and scratching
• Planning your playlist
• Working with tempo and finding breakbeats
• Mixing and matching music genres
• Creating loops and live samples
• Phasing and beat juggling
• Transitioning effectively
• Questlove's musical influences and favorites
• Using turntables, mixers, headphones, slipmats, and other DJ equipment