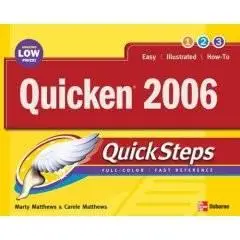 Bobbi Sandberg, Marty Matthews, Quicken 2006 QuickSteps
Mcgraw-Hill Osborne Media | ISBN 0072262664 | PDF | 2005 | 240 pages | 12,85MB
Nearly every page features of this invaluable guide screenshots with numbered callouts that show and explain how to use all of Quicken's powerful features. You'll learn to balance checkbooks, pay bills, master online banking, track investments, handle budgeting, manage taxes, create reports, and much more. Sidebars throughout provide alternate methods and further explanations, and each chapter's "How to" list and color-coded tabs make it easy for you to flip straight to specific tasks and get to the information you need right away.
No pass. Enjoy.