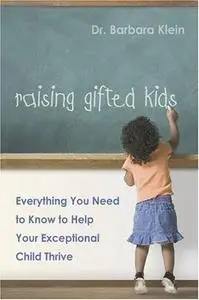 Barbara Schave Klein, «Raising Gifted Kids: Everything You Need to Know to Help Your Exceptional Child Thrive»
AMACOM | ISBN 0814473423 |
Edition - 2007 (Not Released Yet)
| PDF | 256 Pages | 2,40 Mb
While it can be rewarding to raise an extremely bright child – quick, curious, sensitive, and introspective – it's also a daunting challenge. Parents need insight into their own motivations (as well as those of their children), and the courage and ability to make tough decisions about their child's development. Raising Gifted Kids will help parents understand and cope with the obstacles they face in raising a gifted child, and help them make the best choices for their son's or daughter's growth and happiness. This upbeat and practical book reveals how parents can:
help develop their child's potential and self-esteem without pressuring them
plan their child's education
work optimally with schools and teachers
recognize and prevent problems
solve family conflicts over parenting issues
avoid the dangers of living vicariously through their child's accomplishments
and much more
Filled with proven solutions to the unique challenges of raising gifted kids, this book is the powerful yet accessible resource parents have long wished for.
Download Here
Password:
spiderman
It is my original post for the community. If U wish me to continue posting more latest ebooks for the members, please don't post mirrors, as a recognition of my efforts for you. Thanks!!!