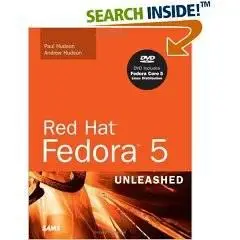 Paul Hudson, Andrew Hudson, Red Hat Fedora 5 Unleashed
Sams | ISBN 067232847X | CHM | 2006 year | 1104 pages | 16,10 MB
Red Hat Fedora 5 Unleashed thoroughly covers all of Fedora's software packages, including up-to-date material on new applications, Web development, peripherals, and programming languages. It also includes updated discussion of the architecture of the Linux kernel 2.6, USB, KDE, GNOME, Broadband access issues, routing, gateways, firewalls, disk tuning, GCC, Perl, Python, printing services (CUPS), and security. Red Hat Linux Fedora 5 Unleashed is the most trusted and comprehensive guide to the latest version of Fedora Linux.
Rapidshare download