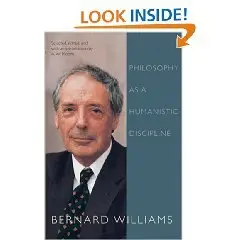 Philosophy as a Humanistic Discipline
Bernard Williams | Princeton University Press | 256 Pgs | 2006-01-02 | ISBN : 0691124264 | PDF | 1.2 Mb
What can–and what can't–philosophy do? What are its ethical risks–and its possible rewards? How does it differ from science? In Philosophy as a Humanistic Discipline, Bernard Williams addresses these questions and presents a striking vision of philosophy as fundamentally different from science in its aims and methods even though there is still in philosophy "something that counts as getting it right." Written with his distinctive combination of rigor, imagination, depth, and humanism, the book amply demonstrates why Williams was one of the greatest philosophers of the twentieth century.
Spanning his career from his first publication to one of his last lectures, the book's previously unpublished or uncollected essays address metaphysics, epistemology, and ethics, as well as the scope and limits of philosophy itself. The essays are unified by Williams's constant concern that philosophy maintain contact with the human problems that animate it in the first place. As the book's editor, A. W. Moore, writes in his introduction, the title essay is "a kind of manifesto for Williams's conception of his own life's work." It is where he most directly asks "what philosophy can and cannot contribute to the project of making sense of things"–answering that what philosophy can best help make sense of is "being human."