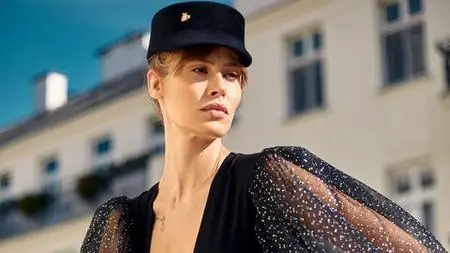 Doskonalenie Retuszu Fashion w Photoshop
.MP4 | Video: 1280x720, 30 fps(r) | Audio: AAC, 48000 Hz, 2ch | 372 MB
Duration: 2.5 hours | Genre: eLearning | Language: Polski
Naucz Sie Niesamowitych Technik Retuszu Fashion w Photoshop - Niedsestruktywny Retusz Plus Doskonalenie Swiatla i Koloru.
What you'll learn
Nauczysz Się Jak Wywoływać Zdjęcia w Camera Raw
Nauczysz Się Jak Wywoływać Zdjęcia w Capture One
Nauczysz Się Niedestruktywnego Retuszu Skóry
Nauczysz Się Jak Tworzyć Maski Jasności
Nauczysz Się Jak Dostosować Kontrasty Używąjąc Masek
Nauczysz Się Jak Pracować Selektywnie Ze Światłem
Nauczysz Się Jak Tonować Zdjęcie Wykorzystując Maski
Nauczysz Się Technik Korekcji Kolorów
Requirements
Potrzebujesz Komputera Windows lub IOS
Potrzebujesz Programu Photoshop - Wersja nie starsza niż CS3
Description
Zdjęcia fashion to coś więcej niż po prostu zdjęcie. Kosztuje to mnóstwo wysilku by osiągać perfekcje - moda jest sztuka i tak powinnien być traktowany retusz takich zdjęć.
Ten kurs da tobie wszystko co potrzebujesz by zrobić kretywny krok do przodu i nauczyć się niedestruktywnych technik retuszu jak i procesowania koloru.
Ja nazywam się Marcin Mikus i jestem profesjonalnym komercyjnym retuszerem fashion i beauty, jak i rownież nauczycielem photoshopa z ponad 5 letnim doswiadczeniem. Mozesz łatwo wygooglować moje imię i znalezć dostęp do mojej pracy retuszera i publikacji ktore miałem, jak i rownież dowiedzieć się więcej o mojej pracy jak edukatora - skupionej na retuszu.
W tym kursie pokazę wam caly proces retuszowaia zdjęć fashion - pracując na kilku rożnych przykladach zdjęć.
Oczywiscie zaczniemy od wywoływania zdjęć raw w programie camera raw - co jest podstawą kazdego retuszu. Dla tych którzy nie używają camera raw - tak jak ja - również przygotowałem lekcje na temat wywolywania zdjec w Capture One - programie mojego wyboru.
Po tym jak pokaze wam wszystko co musicie wiedziec o procesowaniu zdjec raw przejdziemy do photoshopa i zaczniemy od retuszowania skory.
W tej czesci pokaze wam jak profesjonalnie wyczyscic skore uzywajac podstawowych narzedzi - jedynej prawidlowej drogi by niedestruktywnie wyczyscic skore. Oczywiscie nie pominiemy procesu Dodge & Burn - absolutnie wyjatkowej technice kiedy chodzi o niedestruktywny retusz skory.
W nastepnej sekcje nauczysz sie wszytskiego co musisz wiedziec o kontrastach - i to da tobia naprawde podezna dawke informacji dzieki ktorym nauczysz sie i udoskolanisz prace z maskami! Pokaze Ci jak tworzyc precyzyjne maski tak by dokladnie zdefiniowac linie pomiedzy cieniami i swiatlami na zdjeciu. Nastepnie pokaze Ci jak uzyskac kontrole nad kazda czescia zdjecia - nawet nad tak drobnymi detalami jak buty!
Uzuwajac wiedzy ktora zdobedziemy przy maskach przejdziemy do pracy z kolorem i tonowania zdjecial. Uzywajac zaawansowanych technik pracy z maskami dokonami korekty kolorow ze zrozumieniem harmoni kolorow - wiec mozesz wiedziec ze nie bedziesz uzywala kolorow w sposob przypadkowy!
Na sam koniec kursu dokonamy kilku finalowych krokow tak by udoskonalic nasze zdjecie - uzywajac wartosci koloru, nasycenia i jasnosci na zdjeciu.
Oprocz tego otrzymacie oczywiscie akcje kolorystyczne do zdjec fashion ktore mozecie wykorzystac przy odpowiedniej okazji!
Powodzenia,
Marcin
Who this course is for:
Fotografowie Mody
Artyści Post Produkcji
Każdy Kto Chce Się Nauczyć Retuszu
Fotografowie Którzy Chcą Się Nauczyć jak Procesować Zdjecia
Początkujący Retuszerzy
Zaawansowani Retuszerzy Chcący Się Nauczyć Więcej