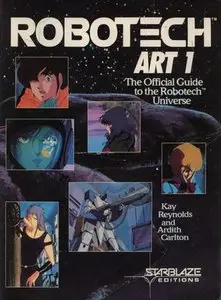 Kay Reynolds, Ardith Carlton - Robotech Art 1 (Starblaze Editions)
Donning Company | 1986 | ISBN: 0898654122 | English | 261 pages | PDF | 74.9 MB
The Official Guide to the Robotech Universe.
If you are looking for the definitive episode guide to Robotech as aired in the US by Harmony Gold, this is the book for you. It has detailed synopses of all 85 episodes from the beginnning of the Macross saga, through the Southern Cross saga, to the end of the Invid Invasion saga. The art is mostly cels from the original Japanese version of the series. It also has a brief history of Anime releases in the US up to this point (around 1986). It is well worth the effort to obtain a copy. If you like Robotech in particular, or anime in general, this book is a treasurehouse of the genre.