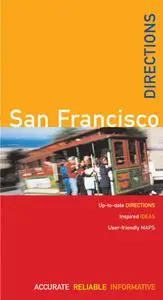 Rough Guide Direction San Francisco
Rough Guides; Bk&Mini CD edition | ISBN 1843533189 | 2004 Year | PDF, rar | 208 Pages | 4,74 Mb
DIRECTIONS guides – the new travel series from Rough Guides launched on 27th May – are an attractive and innovative new addition to the travel shelves this summer. Full of the detailed research you'd expect from a Rough Guide but with fewer pages, DIRECTIONS are stylish slimline pocket guides – perfect if you don't want a big guidebook or you're going away on a short break. Featuring fold-out colour maps for easy reference, a wealth of specially commissioned photography and – unique to Rough Guides – an e-book CD, DIRECTIONS launches with guides to Athens, Lisbon, London, Paris, San Francisco and Venice.
DOWNLOAD
Previous publications
Frommer's Prague and the best of Czech Republic
Cuba for Beginners
Rough Guide Direction New York
Rough Guide Direction Lisbon
Rough Guide Direction. Venice
More travel guides you could found
HERE