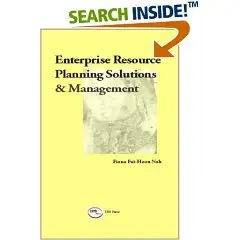 Fiona Fui-Hoon Nah, «Enterprise Resource Planning Solutions and Management»
IRM Press | ISBN 1931777063 | 2002-04 | PDF | 310 Pages | 1,4 Mb
Enterprise Resource Planning (ERP) refers to large commercial software packages that promise a seamless integration of information flow through an organization by combining various sources of information into a single software application and a single database. Today, businesses are striving for integration. Not only is accurate and current information needed; success in business today entails a seamless flow in supply chain, excellent customer relationship management, and capabilities to carry out e-commerce.