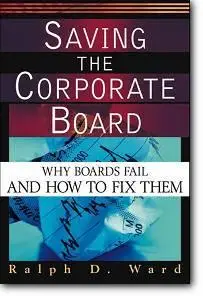 Ralph D. Ward, «Saving the Corporate Board: Why Boards Fail and How to Fix Them»
Wiley | ISBN 0471433837 | 2003 Year | PDF | 0,67 Mb | 240 Pages
When the world gained its first real look into the corporate boardroom (via the scandals at Enron, Worldcom, Tyco, Global Crossing, etc.), we saw an antiquated, clueless, even corrupt bunch of amateurs, out of touch with the massive companies they were supposed to oversee.

While the TV news and headlines focused on catastrophic failures in management, auditing, financial disclosure, and executive pay, we soon learned that all these failures could be tracked to the corporate boardroom. What can be done to fix this true crisis in corporate governance?

Enter Ralph Ward, publisher of the influential online newsletter Boardroom INSIDER and editor of the international journal the Corporate Board. In his new book Saving the Corporate Board: Why Boards Fail and How to Fix Them, Ward reveals ten specific failings that are built into our boardroom model and provides real-world fixes to get boards back on track. Ward mixes tart, insightful analogies (what do boards have in common with volunteer fire departments, the U.S. electoral college . . . and Howard Hughes?) with proven nuts-and-bolts advice for putting any board back on track.

Some of the boardroom ills he diagnoses– and prescribes treatment for–include:

Weak board leadership
Poor data (and even worse delivery)
Director isolation
Clumsy board logistics
Inept board meetings
For each, Ward offers a sharp, but knowing look at the problem, and maps a blueprint to board best practices that restores board control and authority. Stripping the shroud of mystery from the corporate boardroom has exposed its flaws, but also provides us the opportunity to confront its problems and craft solutions. In Saving the Corporate Board, Ralph Ward rolls up his sleeves and offers a compelling model of solid corporate governance.