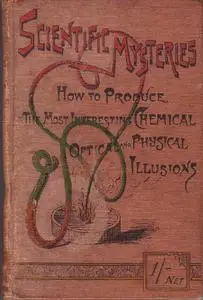 Scientific Mysteries, a collection of simple and effective experiments illustrating Chemical, Physical and Optical Wonders. 1891
ISBN: N/A | 103 Pages | PDF | 13,5 Mb
A fascinating look back at 19th century scientific text aimed at young budding scientists of the time. Some of the experiments seem a little adventurous in today's litiginous society. I can't imagine them being performed in schools these day's without numerous hazardous substance risk assessments and legal disclaimers. Many beautiful hand drawn illustrations. Worth a look.
http://rapidshare.de/files/23382422/scientific-mysteries.rar.html
No password
Thanks to original poster at Science Madness. (
http://www.sciencemadness.org/
). Re-upped to RapidShare.