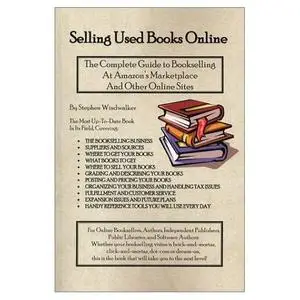 Selling Used Books Online: The Complete Guide to Bookselling at Amazon's Marketplace and Other Online Sites
PDF (Scan) | 8,53 Mb
Selling Used Books Online is a comprehensive how-to bible for America's newest and fastest growing group of entrepreneurs, the sellers on Amazon Marketplace and other online venues. Author Stephen Windwalker, a successful online seller himself who has also operated a brick-and-mortar bookshop, provides a treasure trove of up-to-date information with verve, clarity, and wit.
Amazon founder Jeff Bezos has reported that the number of third-party sellers on his company's website grew from over 100,000 in the fourth quarter of 2001 to over 150,000 in the first quarter of 2002, and roughly one-third of these appear to be entrepreneurial sellers who are operating full- or part-time businesses in competition with each other, with Amazon, and with very large Amazon Marketplace sellers such as Powell's, the Strand bookstore, and Alibris. For these 50,000 entrepreneurs, Selling Used Books Online will be a powerful business resource that will help them level the playing field, stay in business, and prosper.
Selling Used Books Online meets the needs of booksellers and business readers who want to stay current on market changes, best sources, insider's tips and tactics, and best practices, and is also a essential addition for public libraries, the small business and entrepreneurship market and related agency and educational markets, and publishing industry and bibliophile readers. Back matter includes several useful appendices that online booksellers will use on a daily basis: a glossary, a list of standard bookseller abbreviations, a casual bibliography of resources on bookselling and collecting, and an online bookseller's "Rolodex."
The Most Up-To-Date Book In Its Field, Covering:
· THE BOOKSELLING BUSINESS· SUPPLIERS AND SOURCES
· WHERE TO GET YOUR BOOKS
· WHAT BOOKS TO GET
· WHERE TO SELL YOUR BOOKS
· GRADING AND DESCRIBING YOUR BOOKS
· POSTING AND PRICING YOUR BOOKS
· ORGANIZING YOUR BUSINESS AND HANDLING TAX ISSUES
· FULFILLMENT AND CUSTOMER SERVICE
· EXPANSION ISSUES AND FUTURE PLANS
· HANDY REFERENCE TOOLS YOU WILL USE EVERY DAY
Book Type
PDF Scanned
ISBN:
0971577838
Author:
Stephen Windwalker
Size:
8.53MB
Password:
stockholm
http://rapidshare.de/files/16685682/0971577838.rar