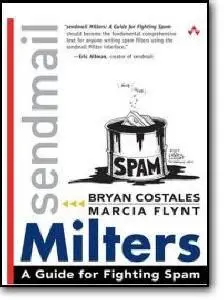 Bryan Costales, Marcia Flynt, «sendmail Milters : A Guide for Fighting Spam»
Addison-Wesley Professional | ISBN 0321213335 | 2005 Year | CHM | 0,5 Mb | 352 Pages
Milters are among the most powerful antispamming tools available. Until now, there has been no clear and helpful resource for you to learn how to set up and use Milters. sendmail Milters: A Guide for Fighting Spam is the first in-depth guide to writing powerful Milters to block even the most clever spammers.

Inside this definitive new reference, you will find

An exhaustive description of the Milter interface
Insightful details on what spam is, its harmful effects, and the diverse techniques used by spammers
A step-by-step guide to luring spammers using a honeypot network
Ways to decode the common encoding methods used in spam email
A reference on the Milter library and its use
Techniques for expanding software to deal with future spamming methods
This book is an indispensable aid to combating spam, now and in the future. If you administer a sendmail server, you need to own a copy.

All of the program code described in the book is available for download at http://spambook.bcx.org.