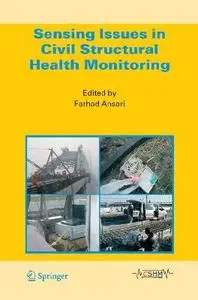 «Sensing Issues in Civil Structural Health Monitoring» by Farhad Ansari
Springer Netherlands| 1st Edition | 528 pages| ISBN-10: 1402036604 | PDF | August 1, 2005 | 30 Mb
This book provides information about the application of Structural Health Monitoring technologies to civil engineering structures including buildings, bridges, tunnels, dams, and pavements. The book is unique as it covers application of a broad spectrum of sensors for monitoring of cracks, deformations, loads, and other types of structural anomalies. The range of sensors covered includes conventional as well as novel sensors such as resistance type strain gauges, PZT, magnetic, fiber optics and smart materials.
The book describes post earthquake structural health monitoring of historic structures such as masonry towers, real time monitoring of modem cable stayed structures and various construction materials including steel, concrete, and fiber reinforced polymer composites (FRP). It covers distributed and multiplexing schemes for monitoring of large structures, data acquisition and processing as well as techniques for interpretation of data. A specific section is dedicated to issues concerning sensor and instrumentation reliability and durability during sensor placement in harsh construction environment, adverse exposure conditions, and long term performance.