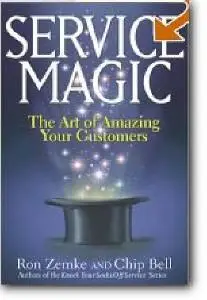 Chip Bell, Ron Zemke, «Service Magic : The Art of Amazing Your Customers»
Kaplan Business | ISBN 0793164672 | 2003 Year | CHM | 0,83 Mb | 272 Pages
Like stage magic, service magic is made up of more than tricks, hocus-pocus, and bravado. Service magic is an art and depends on developing customer rapport, excellent timing, and many hours of practice. Customer service wizards Chip Bell and Ron Zemke have decades of experience advising and coaching the world's biggest businesses in the fine art of providing excellent service. In their new book, Service Magic, the authors use examples from diverse industries to reveal inventive-and fun-approaches to customer service. Using new models for creating customer delight, they share a conjurer's trunk of ideas for sweeping away the mundane and creating customer experiences that will leave customers delighted, charmed, and wanting to come back for more. Readers will learn about the magic-building customer service strategies at play in industries such as:
• Hospitality-How Marriott, Ritz-Carlton Hotels, Hotel Monaco, Old Faithful Inn, Berns Steak House, and Radisson have performed service magic for retaining guests, especially during a downturn in the travel and leisure market.
• Financial services-How do USAA and American Express keep their customers happy when so many financial services companies are churning accounts faster than the Fed can drop interest rates?
• Health care-See how some of the biggest health care providers, including Mayo, Aurora Health, Children's Memorial Hospital of Chicago, Grace Presbyterian Village, and Wayzata Dental, have created caring, nurturing, and helpful environments for patients and families.
• Retail-Byerly's, SuperQuinn, Mary Jane's Farm, Macaroni Grill, Victoria's Secret, and Sewell Village Cadillac are vastly different retailers. Nevertheless, they share some common approaches to service and customer care.
• Entertainment-Universal Studios, Disney World Resorts, All Outdoor White Water Rafting, and the St. Paul Saints have all captured the hearts and souls of customers through the magic of service.