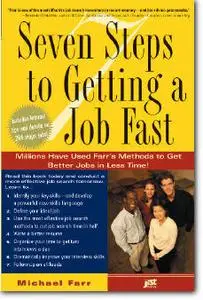 Michael Farr, «Seven Steps to Getting a Job Fast»
JIST Works | ISBN 1563708884 | 2002 Year | linked png-files | 8,49 Mb | 152 Pages
On my quest for employment I have read many a job search book. This book is nice and compact, offering the necessary info and steps quickly. The book outlines the essential ways everyone should look for work, warm and cold networking, using the internet etc. Farr takes you on a journey of worksheets that, before you know it, leads you to the type of job you want and the skill you have to get it. Other books attempt to do similar things, but don't have the clear/clean path this book does. In short this book covers the entire job search process from resume to interview and everything in between, in a short percise and effective way.